Welcome to the Arrowheads.com Stores Artifacts Sales gallery, the number one website in the world for prehistoric ancient Native American Indian artifacts, relics and arrowheads. We are excited to be able to offer collectors this venue for locating and acquiring guaranteed authentic artifacts for their collections, and we hope your shopping experience here is relaxing and successful. Our stores specialize in the following relics:
Arrowheads
Axes
Celts
Bannerstones
Birdstones
Discoidals
Gorgets
Pendants
Pipes
Plummets
Pottery and many other specialty items.
Random Stores
Arrowheads.com Tradin...
Updated On:
Jan 27, 2018
Total Items:
16
Welcome friends an fellow artifact enthusiasts. Hoss here long time A...
Bluff Springs Artifacts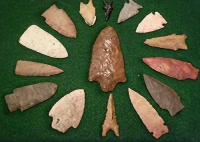 Updated On:
Dec 08, 2018
Total Items:
115
Hello I'm Bill Cox. Welcome and thanks for visiting. I have artifacts...
Recently Updated Stores
You have no Item(s) in your cart
FEATURED PRODUCTS
AH# 41550--Creekfound Indiana Snyders Hopewell

Price:

$175.00


Status: Available
Total Views: 419
AH# 37028--Mill Creek Flint corn spade, Indiana

Price:

$88.00


Status: Available
Total Views: 938